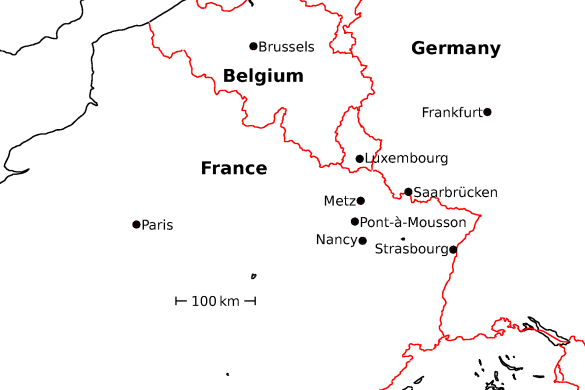 The closest international airport is Luxembourg. Usually, it costs about the same to come to either Frankfurt, London or Paris than to come to Luxembourg for international flights.
By train, you can come to either Nancy or Metz and then take a shuttle to go to Pont-à-Mousson.
By car, Pont-à-Mousson is located on E23/A31, half-way between Metz and Nancy.
Travel from Luxembourg airport
Take a bus to Luxembourg railway station.
There are rare direct train connections to Pont-à-Mousson, else you have to change the train in Metz. The train trip takes about 1.5 hours.
Travel from Paris airport (CDG)
If you arrive at Paris Charles de Gaulle airport, take RATP bus no. 350 to Gare de l'Est (every 20-30 min during daytime, the trip takes about one hour, single tickets for approx. 4 euros are available from the driver) or take RER train B to Gare du Nord (30 min) and have a 10 minutes walk to Gare de l'Est.
From there, take a ticket to Pont-à-Mousson. The trip will cost about 40 euros. Your train will go through Metz or Nancy (less than 3 hours from Paris). In Metz or Nancy, you will have to change for a regional train called TER.
There are frequent trains doing Nancy <-> Metz through Pont-à-Mousson. It takes about 20 min to go from Pont-à-Mousson to either Metz or Nancy.
Travel from Frankfurt airport (FRA)
The best connection is to take an IntercityExpress (ICE) train from the airport to Mannheim, change into a EuroCity train to Metz and changing into a regional train to Pont-à-Mousson (see above). The travel time will be around 4 hours.
Conference location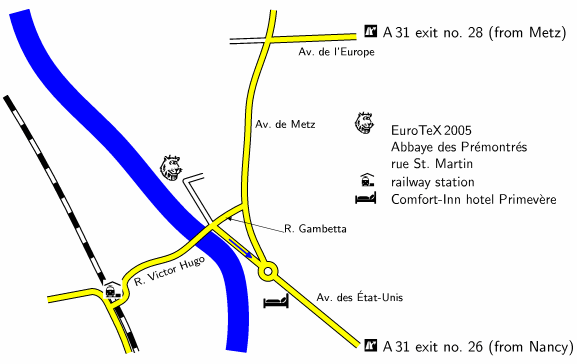 Registration will happen at the Abbaye des Prémontrés. It is a 20 min walk from the train station. Many participants will stay in the Abbey itself. Others will stay at hotel Primevère which is 15 min walk from the Abbey.
People arriving on Sunday evening will be offered diner at hotel Primevère once they registered and whatever place they stay. The diner will be charged to the conference organization, drinks excluded.
Beware: it is very cold here at the moment. On March, 1st, temperature was as low as −14℃ at 8:00 AM. So look at weather forecasts for the next week and take warm clothes!
---